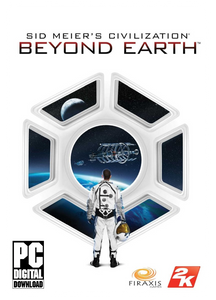 Datablitz Digital Store
SID MEIERS CIVILIZATION BEYOND EARTH DIGITAL KEY
Regular price
₱1,250.00
₱0.00
Unit price
per
Civilization made even better:
Firaxis Games, masters of strategy and the developers of acclaimed titles like Alpha Centuri and theXCOM: Enemy series, presents another masterpiece withSid Meier's Civilization: Beyond Earth! As the latest installment to the Civilization franchise, aside from familiar elements from its predecessors, players can expect new gameplay innovations that take this title forward. In this turn based strategy game played on a hexagon grid, new ground is taken as the Civilization is now set in space - embark on the greatest journey mankind has ever taken inSid Meier's Civilization: Beyond Earth!
Civilization Goes Upward:
250 years ago, humanity was devastated by the events of the "Great Mistake," and are now seeking for a new planet to call their own. Players will take on the helm of humanity's survival; this will be central to gameplay. Customize your own civilisation from choosing sponsors to back the expedition, and select the correct space vessel and crew to follow you into the unknown. Traverse galaxies and discover different "affinities" to be used towards your advantage in this exodus. With choices that matter, make the ones that count - the ending of each play through will be effected by them!
---